Posted: November 2, 2012
Filed under: reading, review
| Tags: books, reading, review
4 Comments
I have always loved to read, but lately it seems like I've been flying through books in no time. I've been meaning to share them as I go, but I guess life has gotten in the way of that lately. In any case, I love getting book referrals from others (just like music, I have the hardest time picking out good books on my own), so I feel like it's only right that I share some of mine with all of you!
I already talked about The Happiness Project the other day, so I won't go into detail again. I'm still at the beginning, but it's good so far! It's not as captivating to me as a fiction book is, but I pick it up and read a chapter or two here and there and thoroughly enjoy it. (I'm even taking notes!)
Slammed by Colleen Hoover was a really quick read about two young-adults (one 17, the other 21), who have both experienced great loss and were forced to grow up really quickly. The pair form a bond that seems unbreakable – until they realize that their relationship is one that cannot happen. Even for young people, the things they go through, and how they handle the cards they are dealt is pretty inspiring. I loved this book, and I read through it in no time. The language was light, but the subject was deep. I found myself feeling really connected to and invested in the characters, and I couldn't wait to find out what was going to happen to them.
Point of Retreat, also by Colleen Hoover, is the sequel to Slammed. It basically covers what happens to the pair following the events of the first book, but is narrated by the male lead, as opposed to the female narrator of Slammed. I can't say too much without giving it away, but if you liked Slammed, you will enjoy Point of Retreat just as much.
Thirteen Reasons Why by Jay Asher was the PBF Book Club choice for October, and after hearing the description, I decided to read it myself. Clay Jenson, a high school student, mysteriously finds a box of cassette tapes on his doorstep one day, sent by a girl he had a serious crush on. He becomes emotionally distraught listening to them, as the tapes reveal all kinds of insight into why she recently killed herself. All the events and interactions that led her to commit suicide are heartbreaking, but I felt myself thinking about how many high schoolers could probably relate to some of the situations. It was not exactly an uplifting book, but it does make you think about how we should treat others. Despite the topic, I thought it was a great read, and I feel like it would be a very beneficial addition to a high school reading list.
My aunt recommended Gone Girl by Gillian Flynn, and since then, I've been seeing it all over the internet. (My aunt is a reader, like me, and gives me tons of good suggestions – many of which come from my other aunt, who also loves to read. I'm lucky, I know.) Well, let me just say: I loved this book. About a wife who goes missing on her fifth wedding anniversary, it was interesting, suspenseful, and very well-written. The search for her and the police investigation surrounding her disappearance keeps you turning the pages until it's done. The ending left a little more to be desired for me, but I would still totally recommend it for the way it kept me engaged the entire time. I literally couldn't put it down.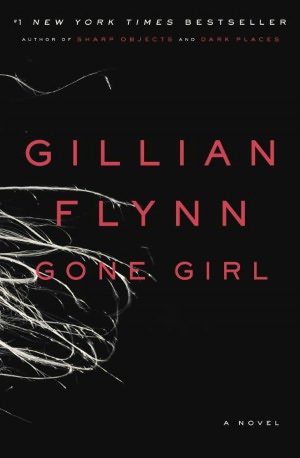 Currently, I'm reading Sharp Objects, also by Gillian Flynn. The preview at the end of Gone Girl pulled me in, and so far, I'm not at all disappointed. The murder of two young girls brings Camille Preaker, a Chicago journalist, reluctantly back to her hometown, and as she searches for clues to the case, she uncovers a lot of crazy things about her own past. I'm almost halfway through, and I feel like I may have figured out the plot (it's another suspenseful one), but like in Gone Girl, I'm fully expecting lots of twists and turns once the big secret is revealed. The thesaurus is my favorite writing tool ever, and I love looking up all the new or unusual words I've come across in Gillian Flynn's writing. (The built-in dictionary on my Kindle makes doing this super easy.)
Questions:
What book are you reading right now?
What are some of your favorite book recommendations? I can always use them!
---